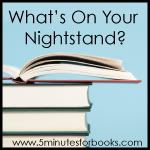 Recently I discovered that
5 Minutes for Mom
has a
5 Minutes for Books
site, which is right up my ally! The fourth Tuesday of every month is "What's on your nightstand?" sharing what you've bben reading and plan to read the next month.
Let's just say this, I've been a reading madman...rather mad "woman" lately. In the last two weeks I've finished three books from
my booklist
for the year!
This month I

finished

reading:
Jane Austen (a biography) by Claire Tomalin
Through the Shadowlands: The Love Story of C.S. Lewis & Joy Davidman, Brian Sibley

Daisy Miller, by Henry James

(short and sweet)



Prisoner of Tehran, by Marina Nemat

(I read this one in two days!)



I'm

still

reading:
Practicing Hospitality, by Pat Ennis & Lisa Tatlock

Practical Theology for Women, by Wendy Horger Alsup

(I'm a little over half way through this one.)



Montessori from the Start: The Child at Home, From Birth to Age 3, by Paula Polk Lillard & Lynn Lillard Jessen

(I just started it today!)



Mi primera mirada a Los Tamanos/Colores/Formas/Numeros

(These are Spanish kids books on size, color, shapes, and numbers. I'm reading them to Joe, but more for my benefit than his. I'm trying to get my Spanish back.)



Next month I
plan
to read:
Lady Windermere's Fan, by Oscar Wilde

Radical Womanhood: Feminine Faith in a Feminist World, by Carolyn McCulley

Story, by Robert McGee
Animal, Vegetable, Miracle: A Year of Food Life, by Barbara Kingsolver
I really enjoyed reading the biographies/memoir.
Prisoner of Tehran
wasn't originally on my list for this year, but I saw it in the library a few weeks ago and on my most recent trip I picked it up. I read it in two days. It was really good, but sad. I'm really interested in Middle Eastern culture and literature, especially in regards to Iran. The book is the story of a woman who became a political prisoner during the Islamic Cultural Revolution. It follows her time in prisoner and how she got out.
It makes me want to go back and reread
Lipstick Jihad
, which I never actucally finished. It'd be interesting to see the difference of Iran from a woman who was coming of age during the revolution and a woman who goes back to Iran as a young adult 20 years after the revolution.
Just a note...
Practicing Hospitality
is in conjunction with the book discussion over at
Passionate Homemaking
with Lindsay. The discussion and questions are posted on Mondays, although I usually post on
Thursdays
. You can join the discussion
here
.
Animal, Vegetable, Miracle: A Year of Food Life
is the next book in Simple Mom's
Sound Mind, Sound Mom Book Club
. The reading dates are March 19 - May 21, 2009.