Well, the countdown is on! Only 35 days until Joe and I are married. Yeah! This is actually the first time since we've been engaged that I've counted the days. Sometimes it feels like it's coming so quick, and yet so far away...but all in good timing.
We sent our invitations out last Saturday and everyday this past week (starting on Monday) we've received RSVP cards, which has been fun. We've been lining them up as we get them.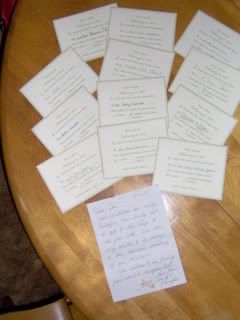 Which makes me think, I should post a picture of our invitation too. We've been really blessed with all our wedding plans. A couple at our church have their own invitation business (
www.divineink.com
) they do from home and they gave us a $500 gift certificate for invitations, which was great. The Lord really has been blessing us in this process. Another lady in our church is making our cake (or rather cupcakes!) for free, because she's seen Joe grow up and was on staff at the church with his dad and friends with his mom. Of course, since we're having the wedding at the church we're not having to pay for tables, chairs, or a facility fee. We really are only having to pay for flowers, linens, some decorations, and my bridal attire.
For the most part, I'm having a good time. There are definitely ups and downs of planning a wedding. It definitely takes a lot of work when you're doing it without a planner and with lots of crafty projects, but I enjoy those things. I just have to learn moderation. My mom gave me some pretty good, but hard advice on that this week, "If it's causing you stress or anxiety, then you don't need it." My first response wanted to be "But, but...you don't understand. It
has
to look...xyz." I know it doesn't but it's that dream of what you're wedding will look like and trying to work toward that. It's especially hard (at least for me) to have wanted an outside wedding and our church sanctuary is basically a carpeted gym with a nice looking stage. Anyways...so the wedding countdown is on...
My bridal shower is this Saturday too, yeah! My mom and sister will be coming out. It should be fun. Hopefully, I'll do better with posting pictures and keeping you up to date on the wedding plans.